"I am looking for a girl and her dog."
—Eammon
Eammon is one the Captain of the Wizard's Guard. He has a daughter named Indra.
In the world of Emerald City
Eammon has been dispatched by the Wizard to find Dorothy - a thing that fell from the sky - and get rid of her.
He travels to the Munchkin's village with four soldiers on the Wizard's behalf. There, he discovers that East is not dead at all and that Dorothy is already gone.
Eammon correctly guesses that Ojo lied to him about the road Dorothy took and leads his soldiers through a shorter route, under a mountain. There, they pass the Prison of the Abject, and the soldiers begin to conspire to get rid of their troublesome leader. They want to kill him and chop his body up to make it look like the lions did that.
At night, when Eammon leaves the camp to relieve himself, one of the soldiers, Dorian, follows him with an intend to kill him.
When Eammon returns safely to the camp, other soldiers find Dorian's body, as if mangled by a lion.
Eamonn and the remaining soldiers stop Circus of Oz caravan on the road. They barely miss catching Dorothy, who overhears their true intentions.
Later, they follow Dorothy's path to the Witch of the East's castle and find a bottle of pills prescribed to Dorothy, with her name written on the side.
Eammon and his soldiers find Dorothy and want to execute her for killing East. Eammon gets distracted by Lucas' sword and recognizes Lucas as 'Roan'. When Dorothy and Lucas escape, Eammon follows and is shot by Dorothy.
Eammon finds Lucas and Silvie in the forest.
Eammon takes Lucas/Roan home, recognizing him as his best soldier and wanting to clear his name. Unfortunately, he collapses from the wound inflicted by Dorothy. He is later shocked to find out that Lucas has turned himself in.
Trivia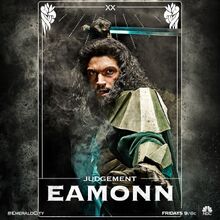 Eammon has been presented as a Tarot card Judgement on the Emerald City Facebook page.
Eammon has a daugher, Indra and one of the promo pictures for Episode Five show another, smaller child.
There's a mural at Eammon's house depicting lions - Eammon is supposed to be a cowardly lion.
Eammon owns a Lion Mask and wore it when he slaughtered king Pastoria and his wife.
Ad blocker interference detected!
Wikia is a free-to-use site that makes money from advertising. We have a modified experience for viewers using ad blockers

Wikia is not accessible if you've made further modifications. Remove the custom ad blocker rule(s) and the page will load as expected.